Christmas is a wonderful time for fun, families and togetherness.
It can also be a time for indulgence with food, drink and festivities where fitness goals are set aside until the New Year.
Christmas weight gain can be a worry for many people who struggle to lose the excess after the holiday season. But you can still enjoy Christmas and keep your fitness and health goals on track.
We will show you how in our Ultimate Guide to Surviving Christmas:
How much weight does the average person gain over Christmas?
While estimates of average holiday weight gain range anywhere between 1kg to 4kg, research indicates that, for the average person, the scale typically increases by 0.37kg, far less than most stats you'll read in the news(i).
However, while the data surrounding weight gain may not be quite as doom-laden as previously thought, that doesn't mean that most people are any more effective at losing the excess weight after the holiday period.
In fact, the evidence suggests that adults tend to weigh more in February and March than in the previous September, and this weight often does not decrease by the following September(ii).
The problem is that adults often gain weight through the festive season, fail to lose it in the following period. This compounding weight gain over the years is what often causes people to become overweight or obese.
How quickly can you lose Christmas weight?
The speed with which you can lose Christmas weight depends on how much you eat, how active you are and how much you have to lose in total.
Of course, the more you eat and the less active you become, the more body fat you are likely to store. So, if you spend a month eating like there's a famine on the way, unsurprisingly, you'll end up carrying some extra weight.
A drop of 1% of your total body weight per week is a good target when it comes to losing fat. However, 1kg may represent a bigger or smaller proportion of your weight, depending on your weight and body composition.
It's worth noting that your body composition before Christmas matters too. If you achieve a healthy body composition (between 10-15% body fat for males and anywhere between 15-20% for women), gaining 1kg is unlikely to present a significant health risk and is relatively easy to reverse through dietary and nutrition changes.
However, the more overweight you become, the greater the health risks (e.g. type 2 diabetes, hypertension, high cholesterol) and the harder and longer you need to diet. As a result, it's generally better to avoid reaching this point in the first place.
Nick completed his 11-week 21kg transformation to be in the best shape possible for Christmas.
Managing your diet through the Christmas party season
Christmas is a time when many people can find their discipline and consistency with nutrition wane. An abundance of high-calorie tasty foods and lots of peer pressure can quickly lead to overindulgence with festive food and drink.
Part of the problem is that people often adopt an all-or-nothing mindset that results in them 'falling off the wagon'. In fact, this 'screw it!' mentality frequently holds people back from achieving their health and fitness goals(iii).
However, you don't need to say 'no' to everything. Instead, the main aim around the festive period should be to enjoy everything in moderation. Don't worry if you do not know where to start – check out the nutrition tips below so you can enjoy your Christmas without completely going off track.
Wendy came to Ultimate Performance after Christmas and has lost an incredible 28kg to transform her health.
1. Start with a good breakfast
Instead of the usual processed cereals or toast and jam, start your day with a high-protein breakfast and healthy fats to set the tone for the rest of the day.
Try not to skip breakfast altogether to save calories, as this can affect your blood sugar, energy and mood, leaving you feeling ravenous and more likely to overeat later!
Instead, go for options such as spinach and tomato omelette, or poached eggs and avocado. These kinds of breakfasts keep you feeling fuller for longer, provide a good dose of vitamins and minerals, and help stabilise your blood sugar levels throughout the day.
2. Watch your liquid calories
The festive period is when many people like to relax and enjoy a drink. However, you can have too much of a good thing, and it is important to choose your drinks wisely.
Festive favourites such as eggnog, mulled wine and creamy liqueurs are high in calories and are easy to overconsume.
Alcohol, in particular, contributes empty calories which have little to no nutritional value and can contribute to making poorer food choices throughout the day.
If you do choose to drink, do so in moderation and ensure you are counteracting with plenty of water throughout the day to stay hydrated.
If you have to drink, choose your tipple wisely!
As you can see, not all drinks are made equal! To minimise the damage, go for spirits with a calorie-free mixer, a glass of prosecco, or half the alcohol content of a glass of wine by making a spritzer.
3. Focus on nutrient-dense foods
When it comes to Christmas dinner, instead of focusing on calories, aim to maximise nutrient density.
There are plenty of small changes you can make to your Christmas dinner without sacrificing taste or enjoyment.
Ensuring most of your plate is filled with lots of vegetables, a serving of lean protein and keeping the trimmings, such as stuffing or gravy, to a moderate amount will help you tick all the nutritional boxes.
We've got a host of nutrient-dense Christmas swaps that won't break the calorie bank!
4. Visit people, not food
Christmas is a time to socialise and spend time with your nearest and dearest, so make that the focus of your day rather than the food.
Whatever you choose, make it a part of the social occasion you share with friends and family rather than overindulging alone or eating mindlessly in front of the TV.
Christmas food is meant to be shared and enjoyed together socially rather than eaten alone!
5. Eat until satisfied, not stuffed
Christmas is a day to eat what you enjoy, but don't confuse this with 'eat everything and anything in sight'.
Nobody likes that overly full and sick feeling when you eat to excess just because something is there, rather than needing it.
Instead of eating for the sake of it, focus on quality, not quantity.
6. Remove the guilt
Although it's important to be mindful, remember that you can sit back, relax and enjoy your time with friends and family and, if you do overindulge, don't beat yourself up.
Do not overly restrict and deprive yourself for the next week to compensate, as this will only encourage and lead to bad habits long term.
Instead, shift your focus to getting back to your normal eating and exercise routine.
Keep your healthy habits in place over Christmas, such as daily activity outdoors.
7. Indulge only in festive foods
It's one thing eating a little too much Christmas pudding, but another if you're following it up with a trip to McDonald's. The key with this time of year is to set realistic dietary goals.
Unless you have an impending photoshoot deadline in January, totally restraining yourself from some treats will only lead to you cracking and inevitably bingeing.
But select your treats wisely and pick foods only available in the holiday season rather than those that are readily available the rest of the year.
Of course, you still need to exercise a little portion control!
8. Use a few key strategies to beat cravings
Amino acids such as glycine and glutamine can help curb sweet cravings and balance blood sugar levels. Other tips for beating cravings include brushing your teeth, which should quickly stop your cravings in their tracks. If that still doesn't work, get moving! A walk or run will soon help curb any persistent cravings.
Staying active during the holidays
Christmas is the time in the year where people relax, eat and drink more, and exercise goes out the window.
But there's one simple way to stay healthy, maintain your body weight and put yourself in the best position to kick off the New Year; that's increasing your daily activity levels.
Although finding ways to exercise during the festive season can be challenging, it is not impossible.
Here are five tips we use with our clients to help them stay fit and healthy over the festive period.
1. Do something rather than nothing
Your routine may be different at Christmas, and you might be more limited for time than usual. However, your mindset should be to look at what you can do and start from there, rather than throwing the towel in and doing nothing at all.
Even if it is just a 20-minute workout or a walk outside, always look to get your body moving in some way every day to increase your daily energy expenditure and lift your mood.
2. Get outside
Going to the gym might not always be an option, especially with Christmas shopping or a busy social schedule.
Getting outside for a walk, run or cycle will increase your energy expenditure and provide some much-needed sunlight exposure for a daily dose of Vitamin D.
Aim to get out first thing in the morning before your day gets too busy, and your motivation is still high. Not only does this put you on a positive note for the day, but daylight exposure before noon also helps to regulate your circadian rhythm, thereby promoting better sleep.
3. Get the family involved
If you have a big family or energetic children, get them involved too! Including your friends and family is a great way to stay accountable during the festive period and keep more active generally.
Group activities are a great way to spend time with loved ones and get all the benefits of exercise. Turn off the TV and video games and schedule group activities like hiking, ice skating, football or cycling.
4. If you can't get to the gym, fit in a home workout
If you can't stick to your normal training routine due to time constraints and family obligations, why not try a home workout.
A 30-45-minute high-intensity session at home can be easier to pack into a busy schedule than going to the gym. It is also a great way to increase your energy expenditure, boost endorphins. It also costs nothing!
Get creative with household items, like water bottles, tins of food or rucksacks full of books to add resistance and make your workouts more challenging. Alternatively, check out one of the workouts below with Elliott Upton, our Head of Online Personal Training.
Whatever your equipment, we've got you covered!
5. Don't wait for New Year
How many people do you know that say they want a fresh start come January 1, but why wait? Implementing better habits now will set you up for long-term success.
Small changes you can stick to consistently over time will make the biggest difference.
So, enjoy the festive period but stay active, keep up healthy habits, and you'll have a head start on your goals in the process.
This approach will leave you in a far healthier and happier position to push on to your New Year fitness goals.
Mouth-watering recipes that won't break the Christmas calorie bank
If you're in charge of cooking and don't want to overdo the indulgence, try these festive recipes for the ultimate healthy festive dinner:
We've made some simple swaps to keep things clean and put a twist on some classics. If you're plant-based, we've got something for you too.
Yuletide mains
TASTY STUFFED CHICKEN THIGHS RECIPE
Whether it's Christmas dinner or the Boxing Day buffet, there's always a selection of appetisers, sides and finger food to fill your belly during the festive season.
To avoid piling on the pounds and undoing all your hard work, try sticking to foods that you normally eat as part of your diet.
Protein and vegetables will give you the biggest bang-for-your-buck, so have a go at making this clean-eating festive option that everyone will love.
This recipe uses our healthy quinoa and mushroom stuffing recipe, which you can find below.
Once you've made your stuffing, follow these instructions, and you'll have a delicious high protein menu option that comes with all the essential amino acids. Winner winner, chicken dinner!
Macros
Serves: 3
Calories per serving: 398
Carbs: 12g
Fat: 18g
Protein: 47g
Ingredients:
200g mushroom and quinoa stuffing mix (roughly one batch)
6 free-range chicken thighs – skinless and boneless
Juice of half an orange
1 tbsp thyme – freshly picked or dried
½ tsp black pepper
Pinch of Himalayan salt
Method:
Open up the chicken thigh and line with a heaped tablespoon of the stuffing mix.
Fold the chicken thigh back over.
Pour over the orange juice and sprinkle over the thyme.
Season and roast in the oven at 170°C for 25 minutes. Check the chicken is cooked through and piping hot in the middle – the stuffing can increase the cooking time depending on how generous you've been.
Remove from oven and serve with roasted butternut squash and steamed kale.
CHRISTMAS LEFTOVER TURKEY PALEO PIE
It's Boxing Day, you've overindulged the day before, and you have tons of leftover turkey.
Are you sick of chocolate and sweets? Craving something nutritious and healthy? This paleo turkey pie will help you balance out all the treats from the last few days. Filled with nutrient-dense vegetables, low-fat turkey and topped with creamy mash, this dish will be a firm favourite with all the family.
So whether you have friends around for a Boxing Day dinner, a quiet one with family or just need an inventive way to use up all that extra turkey, give this paleo pie a go!
Ingredients
450g turkey
2 carrots
1 leek
1 onion
3 cloves of garlic
250g mushrooms
1 cup of broccoli
4 sweet potatoes
1 cup of stock
1 tsp dried rosemary
1 tsp dried thyme
1 tsp butter
1 cup of coconut milk
Method
Peel and chop the potatoes into cubes and place them in a pan of boiling water. Leave to boil for 25-30 minutes.
Meanwhile, finely chop the garlic, onion and mushrooms.
Add a dash of olive oil to a frying pan. Add the onions and garlic and leave to fry for 3-4 minutes or until the onions are translucent.
Add the mushrooms with a sprinkle of rosemary and thyme and leave to brown for another 3-4 minutes.
When the mushrooms are cooked, add the mixture to a blender with half a cup of coconut milk. Blitz and set aside for later – this will be your creamy sauce.
Slice the leeks, carrots and break up the broccoli florets. Add to a pan with a little olive oil and leave to cook.
Meanwhile, add a teaspoon of butter and some black pepper to the drained potatoes and mash.
Add the leftover turkey to the vegetables along with the rest of the thyme and rosemary and stir.
Next, pour in your creamy sauce and add the peas. Stir and leave to simmer for 10-15 minutes.
Spoon the turkey mixture into a pie dish and top with your mashed potatoes.
Put the pie in a pre-heated oven (gas mark 7/220°C/200°C fan) for 20 minutes.
Serve with some spinach and enjoy!
Festive side dishes
LOW-FAT PIGS IN BLANKETS RECIPE
Pigs in blankets are the ultimate Christmas comfort food.
Switch up your regular, high-fat pork sausages with these turkey sausages and turkey bacon rashers, and you're in for a healthy, high-protein treat!
Making simple, healthy changes to your festive dinner all amount to a healthier Christmas without a lot of extra effort.
You can customise this recipe with different flavours. We've used wholegrain mustard and a drizzle of honey, but you could add some sliced apple or even wrap your sausages with our quinoa and mushroom stuffing.
The main healthy switch here is from pork to turkey. Turkey is a great source of iron, zinc and vitamin B6, which is great for your energy levels. It is lower in fat than pork and very high in protein. Turkey is also a source of selenium and tryptophan (an amino acid), which is key to producing serotonin (your happy neurotransmitter).
Macros
Calories per pig in blanket: 122
Carbs: 6.9g
Fat: 3.3g
Protein: 16.1g
Ingredients:
8 gluten-free turkey sausages
8 rashers of turkey bacon
1 tbsp wholegrain mustard
1 tbsp raw honey
½ tsp rosemary
Method:
Spread out your sausages in a baking tray.
Mix the mustard, honey and rosemary in a small bowl.
Baste the sausages with the marinade.
Wrap a slice of bacon around the sausage.
Baste again and bake in a pre-heated oven at 180°C for 20-25 minutes until the sausages are cooked through.
FAT LOSS-FRIENDLY MAPLE BACON SPROUTS
Love them or loathe them, these Christmas staples are packed full of vitamins and provide a great source of fibre.
Loaded with vitamin C, vitamin K, fibre and antioxidants, these green vegetables also provide a boost to your immune system.
Most sprout recipes feature smoked, streaky bacon that is high in saturated fat. However, this recipe uses turkey bacon, which brings a smoky taste with less fat. Hazelnuts add crunch and healthy fats, while pomegranate seeds add sweetness with an extra sprinkle of vitamin K.
This dish is super simple to prepare and looks beautiful on any dining table.
If you prefer your sprouts on the softer side, parboil them first. If you like a real crunch, then you can miss this stage.
Macros
Serves 4
Calories per serving: 130
Carbs: 8.3g
Fat: 6.6g
Protein: 9.3g
Ingredients:
200g Brussels sprouts, peeled
4 slices of turkey bacon (you can use regular bacon if you prefer, but trim the fat first)
50g pomegranate seeds
30g roasted, finely chopped hazelnuts
1 tbsp thyme
1 tbsp maple syrup
½ tsp black pepper
¼ tsp Himalayan salt
Method:
Parboil the peeled sprouts for 2-3 minutes and then drain under a cold tap.
Slice the sprouts in half and add them to a baking tray.
Dice the slices of turkey bacon and sprinkle over the top.
Sprinkle with thyme, salt and pepper and drizzle the maple syrup over the sprouts.
Roast in a pre-heated oven at 170°C for 10 minutes.
Remove from the oven and add the hazelnuts. Return to the oven and roast for a further 8-10 minutes.
Once cooked, sprinkle with the pomegranate seeds and serve.
BUTTERNUT & CHESTNUT CHRISTMAS RECIPE
When you think of carbs at Christmas, no doubt you think of duck fat roasted potatoes, Yorkshire puddings and mince pies.
While we all know that these aren't very fat-loss friendly foods, they often find a way of getting onto our plates at Christmas, so try this healthier option to satisfy those carb cravings.
Pair your squash with chestnuts and sautéed onions, and you have a tasty festive side dish that will please everybody. Sage and butternut are a match made in heaven, and pairing them together in this recipe is no exception.
This recipe is a one-pan wonder, simply dice everything up and throw it in a baking pan. Roast and season – easy!
Macros
Serves 4
Calories per serving: 128
Carbs: 20.8g
Fat: 3.9g
Protein: 2.3g
Ingredients:
500g diced butternut squash
100g ready to eat chopped chestnuts
¼ red onion
1 tbsp light olive oil
1 tsp sage
1tsp thyme
½ tsp black pepper
¼ tsp Himalayan salt
Method
Preheat the oven to 190°C and line a baking tray with baking parchment.
Chop the red onion into thin slices, then add the butternut, chestnuts and onion to the tray.
Season with herbs, salt and pepper and drizzle with light olive oil.
Roast for 30-35 minutes until the dice are tender inside.
CHRISTMAS TRIMMINGS
High-protein quinoa & mushroom stuffing recipe
Sautéed mushrooms, sunflower seeds, and sage lend this recipe the unmistakable tastes of traditional stuffing, but with an added health boost and a much better nutritional profile.
You could also make a large batch in a loaf tin, topped with sliced apricots and extra nuts and seeds crumbled to create a delicious vegan nut roast.
This recipe can be used to create simple stuffing balls (pictured below) or to stuff chicken thighs for a high-protein meat dish.
Macros
Makes 6 stuffing balls
Calories per stuffing ball: 54
Carbs: 5.4g
Fat: 2.5g
Protein: 2.5g
Ingredients:
100g chestnut mushrooms
80g cooked quinoa (cooked with 1 tbsp bouillon powder)
50g chopped ready-to-eat chestnuts
25g pumpkin seeds
1 tbsp sage
1 tsp garlic powder
¼ tsp black pepper
Pinch of Himalayan salt
Method:
Take the chestnut mushrooms and dice them into small pieces (brunoise).
Pan fry with the sage and pumpkin seeds so that the seeds are lightly toasted and the mushrooms are just cooked.
Add all the ingredients to a bowl and combine well.
Roll the mixture into golf ball-sized balls.
Line a baking tray with baking parchment and add the stuffing balls.
Roast in the oven for 20-25 minutes at 180°C until golden brown on top.
Sweet treats
PALEO CHOCOLATE ORANGE 'SQUIDGIES'
The Christmas holidays are usually associated with calorie-laden snacks, sweet treats and overindulgence.
If you're heading to a family get-together, you'll be surrounded by plates of mince pies, cake and tins of chocolates. Let's be honest; it's hard to resist!
But don't worry, ward off temptation with these paleo chocolate orange 'squidgies', which pack a chocolate punch but are chock full of nutrient-dense ingredients. So, whether you fancy a sweet treat at home, baking with the children or need to take a plate of food with you to a party, these chocolatey cakes are perfect for a healthier treat this Christmas.
Ingredients
4 oranges
1 cup of chia seeds
2 cups of almond milk
1 cup of coconut sugar
1 cup of ground almonds
1 cup of U.P. Chocotrients
1 tsp baking powder
1 tsp cinnamon
1 bar of 70% dark chocolate
Method
Start by placing two whole oranges in a pan of boiling water and leave to simmer for 90 minutes.
Next, mix together the chia seeds and almond milk in a large mixing bowl and put them in the fridge to chill.
Pre-heat the oven to gas mark 6, 200°C, or 180°C in a fan-assisted oven.
When your oranges are cooked, remove them from the pan and roughly chop them. Then place the oranges, including the peel, into a blender and blitz until smooth.
Remove your chia seeds from the fridge. By now, they should be a thick, gloopy texture.
Add the blitzed oranges, coconut sugar, ground almonds, Chocotrients, baking powder and cinnamon to the chia seeds and mix.
When combined, spoon the mixture into cupcake cases and place in the oven for 35-40 minutes.
Remove from the oven when they are still springy to touch and leave to cool.
Finally, grate the dark chocolate and zest of two oranges. Sprinkle the orange zest and dark chocolate on top of the cakes to decorate.
How to look after your mental health at Christmas
Christmas is full of joy and celebration for many across the world; however, it can also be very challenging for those already going through difficult times.
If you do find yourself feeling low, anxious or stressed during the festive season, remember that you are not alone.
Here are some things you can do now to be proactive and support your mental wellbeing.
1. Stay in Touch
Never underestimate the positive impact of social connection.
We live in a day and age where you can always find a way to keep in touch with people and speak to someone.
Stay connected to family and friends through phone calls, Skype calls – even something as simple as a text message can brighten up your day.
2. Stay Active
Exercise is not just about aerobic capacity and building muscle – studies have shown time and time again the numerous benefits for our mental health that come from physical activity.
People who exercise regularly tend to do so because it vastly improves their overall health and wellbeing.
Regular exercise improves our mood and stress levels by releasing endorphins, our feel-good hormones. It promotes better self-esteem which in turn can reduce anxiety, depression and social withdrawal.
Not to mention it has a positive effect on sleep and memory retention.
Something as simple as a 20–30-minute workout or a walk in the fresh air will do your mental health wonders, so keep your body moving.
3. Eat Well
It is important to remember that what we eat and drink will have an impact on how we feel, mentally as well as physically.
Although the festive period is a time to relax and have the foods you enjoy, highly-processed foods are full of additives and refined sugars that can spike your blood sugar causing more stress to the body, which in turn can affect our mood and energy.
Ensure the majority of your daily diet consists of whole, minimally-processed and nutrient-dense foods, including plenty of protein and fibrous vegetables, with the odd treat here and there in moderation.
Be mindful of alcohol and caffeine intake as this too can elevate stress levels, impair digestion and affect your sleep.
4. Get Enough Quality Sleep
Improving your sleep quality and quantity goes a long way to improving your stress management and overall mood, and it is completely free!
Practicing good sleep hygiene and incorporating a regular bedtime routine will make a big difference.
Small changes you can make are to darken your room, block out excess noise, ensure your bedroom is a low but comfortable temperature and avoid blue light from electronic devices in the hours before bed.
It can also help to do something relaxing before bed like reading a book, meditating or taking a bath.
Alongside nutritional improvements, supplements such as magnesium can also be highly beneficial in promoting better sleep.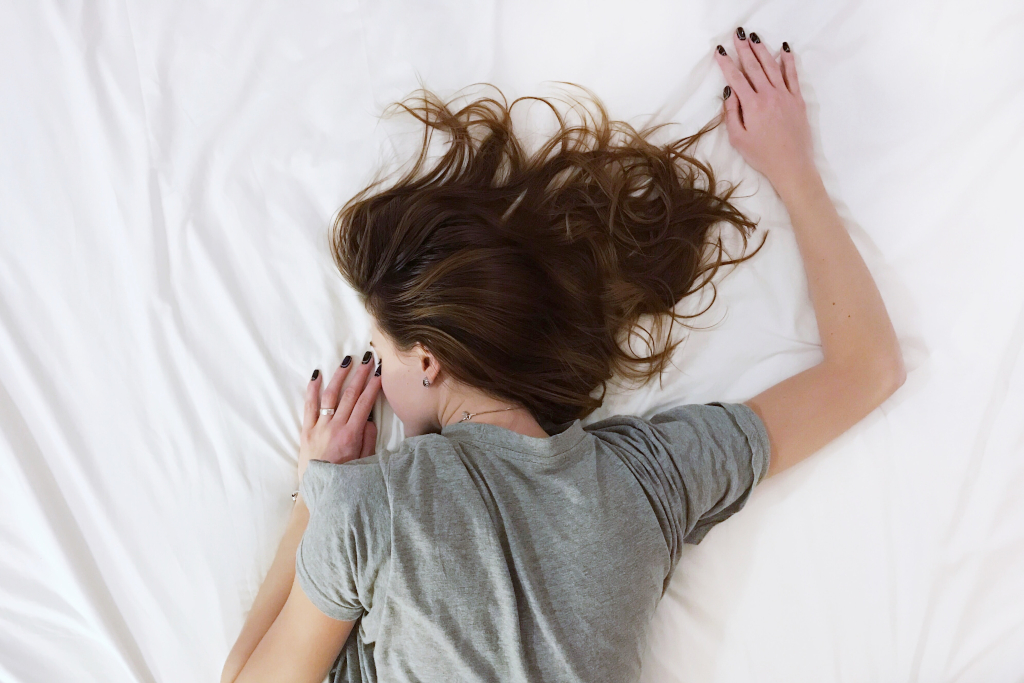 5. Take Time to Relax
During the hustle and bustle of the festive period, do not forget to pause and practice some self-care.
Especially if you are feeling high stress and anxiety, mindfulness and relaxation techniques are important tools you can turn to.
Some examples would be yoga, meditation and gratitude.
Even something as simple as incorporating more "me time" to journal or perhaps write your Christmas cards can prevent a racing mind.
6. Volunteer
Christmas is a time of giving, so taking the focus away from yourself and using your time and skills to help others is hugely rewarding and can have a positive effect on how we feel.
There are so many ways you can make someone else's Christmas happier, such as collecting food and clothing for the homeless and underprivileged children.
When we give back and help those less fortunate, it can bring to light how much positivity we have in our own lives.
How to lose weight or get on track after the Christmas holidays
The presents have long since been opened, you have finally polished off the turkey, and you're feeling about ready to get back to normality. So, what can you do to get back on track with your nutrition and training and stave off the post-holiday blues? Check out these six tips to get you back into healthy habits and get a head start on your New Year's fitness goals.
1. Get back on track but don't feel like you have to 'catch up'
If you indulged a little more than expected at Christmas, focus on getting back to your usual plan rather than panic-dieting to make up for the extra calories. All this does is set you up for disordered eating patterns rather than build healthy habits. The best course of action is to pick up where you left off before the holiday period, and your progress will quickly return.
"Normally things like Christmas would throw me right off the track, but this time I was able to get back on the program fairly easily and whatever weight I put on was lost within a couple of days. That just shows it works!" – Read 59-year-old Kath's transformation story.
2. Focus on incorporating as many nutrients as you can into your diet
Even if you've still got the odd piece of chocolate lying around, if you can go back to keeping at least 90% of your diet full of high-quality, nutrient-dense foods, you'll feel much more energised and less likely to snack between meals. Unprocessed foods also contain calories that we cannot access when we digest them. This means that a 500-calorie meal from lean proteins and vegetables has a lower net energy value compared to 500 kCal from Christmas treats. Not only that, it's far more likely to keep you feeling fuller for longer. Aim to make high-quality protein the star of every meal, with at least half of every plate covered by vegetables. Add in some healthy fats, and that's half the work done for you.
3. Create structure in your diet
One of the main problems with Christmas is that many of us take an extended break from work, and all structure flies out the window for a week or so. Getting back to set meal times and cutting out the snacking is a sure-fire way to get you back on track for your goals. Aim to eat a full meal every 3-4 hours to keep you satiated and keep you reaching for the Christmas cookies.
Download our Transform app – it's a goal-setter, diet creator, meal planner, calorie counter, progress tracker and accountability tool in the palm of your hand.
4. Hydrate, hydrate, hydrate
One of the first things to out the window when we get out of a routine is staying hydrated. Being dehydrated by just 2% impairs performance in tasks that require attention, psychomotor, and immediate memory skills, as well as how we perceive subjective states(iv). Not only will drinking more water help you stave off cravings, but it will also help you get back into the swing of work and training.
5. Set yourself a realistic goal for getting back to the gym
If you haven't trained much over the holiday period, it's far better to ease yourself back in gently than going in all guns blazing and getting an injury. This all-or-nothing mindset is a level of intensity that is difficult to sustain. It's far better to aim for three great quality gym sessions where you give your all than five or six mediocre workouts. Create a plan you're confident you can stick to and execute it with your full focus and attention.
6. Set clear goals
Many people start the year saying they want to 'get in shape', but they only have a vague idea about what this looks like. The more specific you are with your goal and approach, the more likely you are to succeed. To set yourself up for success, use the SMART goal setting method to create a clear plan.
IF YOU WANT EXPERT GUIDANCE TO GET IN THE SHAPE OF YOUR LIFE AFTER CHRISTMAS WITH A PERSONAL TRAINING AND DIET PROGRAM BUILT AROUND YOU, SEE HOW ULTIMATE PERFORMANCE CAN HELP.
References
[i] Yanovski, J.A., et al. (2000). A prospective study of holiday weight gain, New England Journal of Medicine, 23; 342 (12), pp. 861-867. [ii] Yanovski, J.A., et al. (2000). A prospective study of holiday weight gain. [iii] Ogden, J. (2018). The Psychology of Dieting, Routledge, Oxford. [iv] Adan, A., 2012. Cognitive performance and dehydration. Journal of the American College of Nutrition, 31(2), pp.71-78.