In 2007, Ultimate Performance Founder and CEO, Nick Mitchell, noticed two things. Firstly, that in an unregulated fitness industry, clients who trusted personal trainers to help them change their lives did not consistently receive good service, on and off the gym floor.
Instead, more often than not, trainers were more focused on exchanging time for money than genuinely helping people.
Secondly, good trainers, who were in it for the right reasons but who couldn't 'sell', were struggling to market themselves and carve out a career in the fitness industry.
And the stats don't lie. While the numbers of trainers qualifying increased from 15,000 in 2011 to over 23,000 in 2020, figures indicate that as many as 80 to 90% quit within their first year, with common reasons being a lack of career progression and workplace support.[1][2]
Ultimate Performance was founded for one simple reason: to create the most effective method of personal training and allow trainers to develop a long-term career as world-class, results-focused personal trainers without having to worry about marketing and self-promotion.
In our second look behind the scenes at U.P. we asked three U.P. trainers to share the differences in their experiences between their current role compared to working in a commercial gym.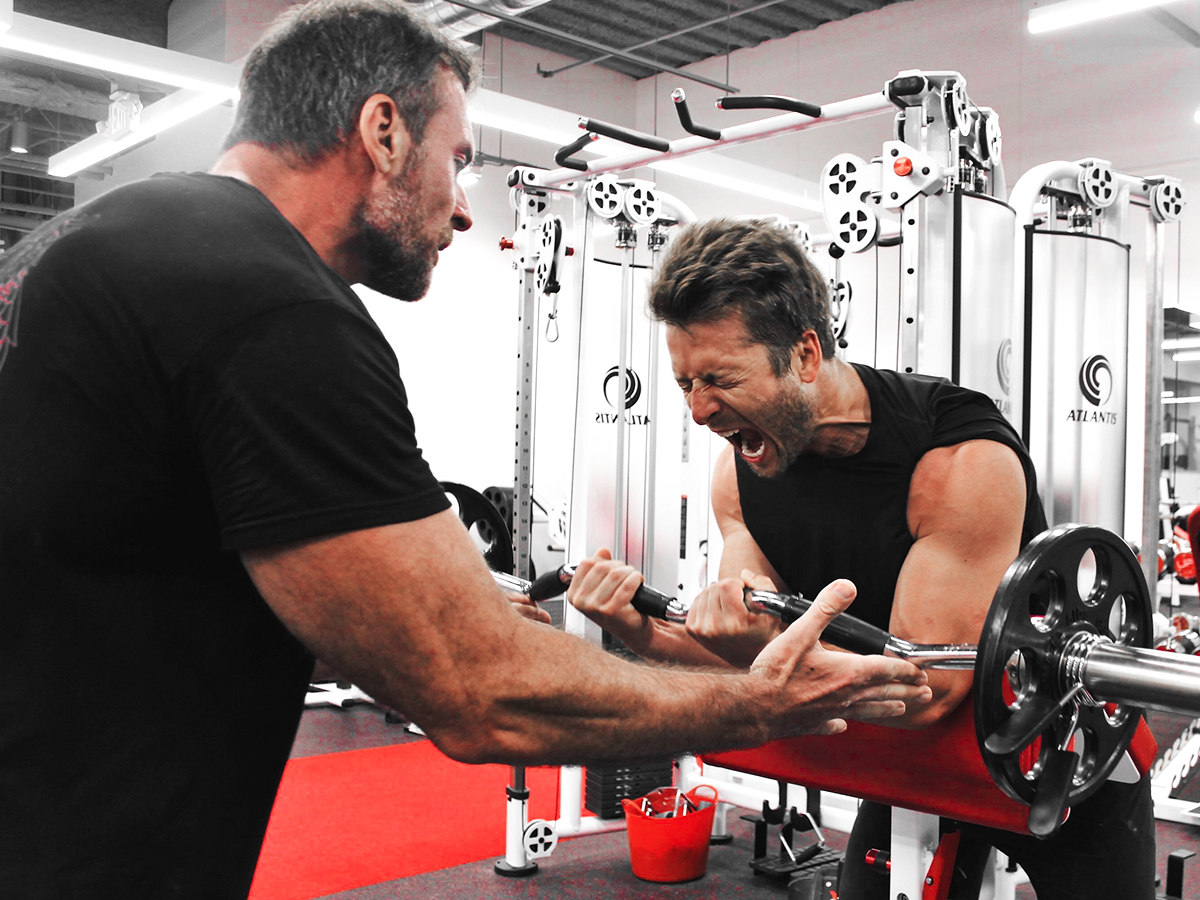 'How does U.P. support your professional development compared to your experience working in a commercial gym?'
Tom:
'U.P. is entirely different from commercial gyms in the way they try to aid you in your development. Whilst commercial gyms are about the numbers you're bringing in financially, the main focus at U.P. is how the clients can get the most value for their investment. This starts by ensuring that trainers have the tools to carry out the best work possible with opportunities around every corner.'
Dominik:
'The difference couldn't be more apparent. At a commercial gym, no one cares whether you develop as a trainer. At U.P., trainers become better at what they do, as it is in theirs and the company's best interest. Therefore, there is a lot of encouragement for continued education via both internal and external channels.'
'How is the U.P. culture different?'
Andy:
'At U.P., the culture is paramount. The difference between U.P. and the previous gyms I have worked for is night and day. It's obvious as soon as you walk through the door that U.P. is somewhere special. Commercial gyms leave you to your own devices, there is no team atmosphere, and you live in fear of other trainers taking your clients. In contrast, the entire team at U.P. constantly support you, and everyone is extremely welcoming and very driven to achieve. The team dynamic in the gyms is of the utmost importance, leading to great intensity on the gym floor and a close-knit group.'
Dominik:
'The culture in commercial gyms is pretty much non-existent. At U.P., on the other hand, you're surrounded by like-minded individuals, which creates a sense of community and an atmosphere of growth and development.
The only comparison I can find is what it felt like when I trained in competitive sports. There is a bit of healthy competition between athletes, but there is always camaraderie and often friendship. Management puts conscious effort into keeping the culture this way. Also, the recruitment process aims to hire people who are passionate about the job and work well in a team.'
Strong leadership, effective mentorship, a collaborative environment that is focused on results are all part of the unique U.P. culture.  
'How does U.P. differ in terms of career progression and opportunities?'
Tom:
'There's a significant emphasis on projecting potential career paths. With new roles outside of personal training constantly being created, U.P. rewards thinking out of the box and hard work with a promotion system that motivates trainers to chase the best results. Commercial gyms generally cap you at whatever level they see fit, only rewarding you when you bring more money through the door.'
Andy:
'Since joining U.P., I have had the opportunity to develop my skills outside of personal training. These opportunities include various roles which help you develop the skills needed to progress. Also, news of other trainer's progression echoes around the company, which is inspiring and motivating. There was zero room for advancement in the previous commercial gyms and studios where I have worked. The only option was to become a P.T. Manager, so if somebody wanted to branch out into other aspects of the business but not into management, there would be no other opportunities. This is one of the many things that sets U.P. apart from anywhere else in the industry.'
'What does a typical day as a U.P. trainer look like compared to your previous experience?
Thomas:
'Although there are long hours at U.P., you're constantly doing something that works towards your progression, whether training your clients, training as a team or learning with the ongoing education schedule. Most of the 'schedule' at commercial gyms consist of long hours, hovering around the gym floor trying to pick up clients, with little to no success!'
Dominik:
'When you're a one-man-band freelancer, you have to multitask. I had to be involved in sales and marketing, which can be time-consuming and distracting. As someone with a passion for training people, U.P. allows you to focus entirely on achieving results with clients.'
'How does a typical U.P. client differ from the clients you've worked with before elsewhere?'
Andy:
'The clients, in general, are not too dissimilar. They have the same goals, but the key difference is that they come here knowing what they can achieve. That comes down to the marketing and systems in place, showing them that we care more about their results than anywhere else.'
Thomas:
Most clients that come through the door at U.P. have a genuine desire to achieve results, with most working at the top end of their profession; only the very best will do! Though you can get clients like this in commercial gyms, they rarely have ambitious goals.
IF YOU ARE LOOKING TO BUILD A GENUINE CAREER IN PERSONAL TRAINING WITH INCREDIBLE OPPORTUNITES FOR PERSONAL AND PROFESSIONAL GROWTH, EXPLORE THE CURRENT ROLES WE ARE RECRUITING FOR AT U.P. ACROSS THE GLOBE.
References
[1] Lange, D. (2021). Statistica: Number of Personal Trainers in the United Kingdom (UK) 2011-2021. https://www.statista.com/statistics/1194844/number-personal-trainers-uk/ [Accessed 20.08.2021].
[2] Trainer Essentials. (2021). 39 Personal Training Industry Statistics [Market Size, Growth & Trends]. https://www.traineressentials.com/personal-training-industry-statistics/ [Accessed 19.08.2021].